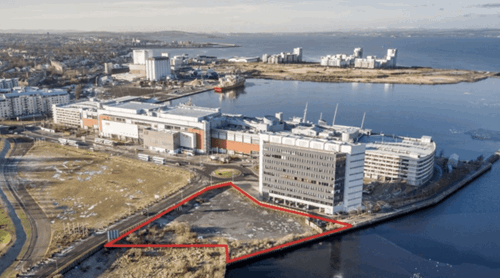 The fully furnished rented accommodation concept will offer all-inclusive rents, covering utilities and other living costs.
The scheme will comprise 293 units providing a mix of studio, one-, two- and three-bedroom apartments, with 74 of these offered at affordable intermediate rent levels.
Crosslane says the entire building is designed to be the living environment. The principle is that residents sleep in their room but live in the building, by taking advantage of the wide range of shared communal space and facilities available, generating a real sense of community within the development.
With many young professionals currently priced out of an expensive and highly competitive apartment-based rental marketplace in Edinburgh, this new concept provides affordable, accessible accommodation for local residents.
The building will also feature a large shared kitchen and dining rooms on each floor, onsite cinema, drawing room, onsite gym and cycle storage facility. Outdoor areas include a courtyard and terrace area with views across the Firth of Forth. The proposals also include study and working areas with office space for new business start-ups, entrepreneurs, SMEs and home working.
A Proposal of Application Notice (PAN) has been submitted to the City of Edinburgh Council, and a public consultation event will be held on February 10.
Mark Hughes, managing director at Crosslane Residential Developments, said: "Crosslane Property Group is an experienced developer and operator having already delivered more than 7,000 units across 30 previous developments. With our new and unique 'residential serviced living' concept, we aim to be the leading provider of community living in the UK and Europe. We have already secured a future pipeline of 3,000 units across six schemes for our new concept and continue to grow this to work towards our goal of delivering 5,000 units by 2025."
"Our Ocean Point 2 development in Edinburgh is incredibly appealing for both Leith and Edinburgh as a whole. Residential serviced living represents an innovative housing solution at a time when rental accommodation prices in the capital are soaring, and there are serious demands on housing supply. This development represents a commitment to provide affordable housing with a full range of shared communal amenities. Our concept of residents sleeping in their rooms and living in the building, will ensure they enjoy a more rewarding, holistic way of life, with improved social, mental and physical health and wellbeing," he added.
"We have received very positive feedback from key stakeholders to date and look forward to presenting full details of proposals to the public to obtain their comments as we continue to incorporate feedback into our final plans. We are committed to ensuring the long-term success and integration of this project into the neighbourhood and look forward to the opportunity of working with local businesses to encourage residents to shop and eat out locally within the area, Hughes concluded.