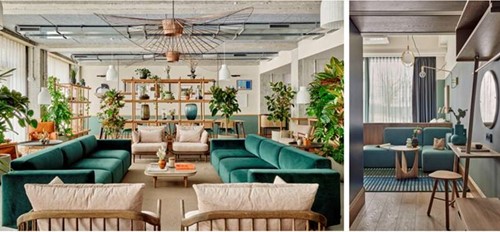 Designed by interior architects Holloway Li, WunderLocke will be available for short and long stays from mid July and offers 360 apartments ranging from studios to one and two bed apartments.
The property also features a large co-working area, coffee shop, meeting and event spaces as well as an outdoor heated swimming pool, sauna and workout studio. 
Eric Jafari, chief development officer and creative director, Locke said:"WunderLocke is our most boundary-breaking Locke to date, creating a destination in the heart of Munich where locals and travellers alike can immerse themselves in the creative sub-culture of the city. Our ambition with this project was to create a wonderland, where you lose a sense of time and journey seamlessly throughout the day, from the co-working space, coffee shop and swimming pool, to Mural Farmhouse and its skyline bar in the evening." 
From August this year WunderLocke will also offer five different food and drink options, Locke is calling the 'Mural Farmhouse' dining concept.
This offers guests five different food and drink areas over the seven floors with food and drink conceived by the founders of local Michelin-starred restaurant, Mural.
 The five options include: a 70-cover all-day restaurant, a fine dining chef's table, coffee shop, wine and cocktail bar, and rooftop terrace with views of the Bavarian Alps. 
Moritz Meyn, founder, Mural said: "The scale of WunderLocke enabled us to imagine a completely original culinary concept. It is a unique destination, and we wanted to reflect that in our concept for Mural Farmhouse – approaching it based on the same spirit and on the same philosophy of all the restaurants of the Mural family to create an original immersive gastronomic experience."
The aparthotel is located in the south west of Munich and aims to become a creative hub in the area, as well as a destination for cultural meet ups, collaborating with companies in the wellness, music, art, food and drink sectors.
Edyn recently announced the acquisition of a Zurich property next year, continuing its European expansion of the Locke aparthotel brand.