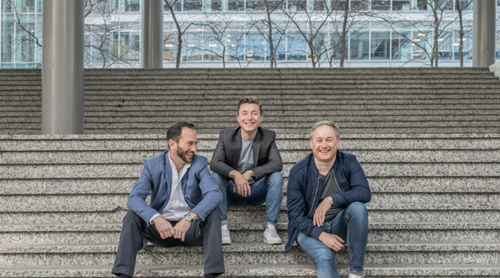 Founded in late 2020 by Wijnbergen, his brother and serial tech entrepreneur Wilco Wijnbergen (CTO), and former director of real estate at Mindspace, Elad Hod (CGO),  the company "works with landlords to transform traditional office space into modern, flexible and inspiring workspaces, ensuring maximum traction with tenants as businesses' demands evolve".
Its first London location, Aldgate Tower, is owned by Brookfield Properties and is located at 2 Leman Street in the City of London.
Brookfield Properties has agreed terms with infinitSpace to operate its workspace brand – beyond – in 60,000 square feet of flexible workspace.
beyond Aldgate Tower will offer coworking and private office space, all with flexible terms and premium services, suitable for individuals up to large teams. The building also features fully equipped meeting rooms and event spaces with additional high-end services.
Members benefit from ultra-fast WiFi, IT support, an app, and a community team. Additional services include barista coffee, breakout and event spaces, and phone booths.
Wybo Wijnbergen, CEO of infinitSpace, said: "We are delighted to unveil our first London workspace. Aldgate Tower is an amazing, modern building that combines a prime location with contemporary design, light-filled spaces and great views. It is a perfect fit for our flexible workspace brand, beyond. Since the start of the pandemic, flexible working has become the norm for many businesses. This means they need flexible spaces to work in – ones that can be accessed around the clock, are optimised with technology, and provide an exceptional experience to inspire people to travel to a place of work.
"We are human-centric; everything we do is tailored to empowering human endeavour. And we're delighted to partner with Brookfield Properties to deliver beyond Aldgate Tower – we cannot wait to begin welcoming companies and their teams in March," he added.
Martin Wallace, SVP leasing at Brookfield Properties, added: "We are always focused on creating a great experience for our tenants, so the partnership with infinitSpace made perfect sense. Spread across three floors, beyond Aldgate Tower will not only serve new occupiers that are seeking an amazing, flexible workspace, it will also provide new opportunities for our current tenants."
infinitSpace will be launching further locations in the coming months, including another under the beyond brand.