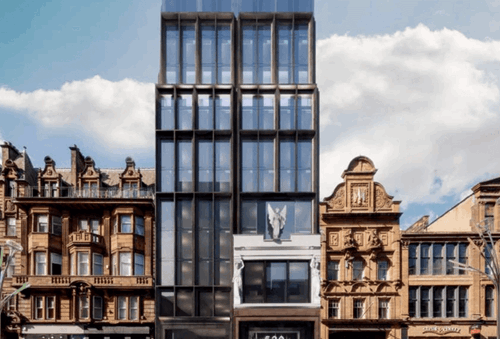 The new development is proposed for a historic B-listed building on Sauchiehall Street and Renfrew Street. The building most recently housed a piano showroom but has remained unused for a number of years.
The proposal calls for a 13-story, 87-unit private residential development that would drastically change the skyline of Sauchiehall Street. The units would vary in size, and a central courtyard is proposed to go on the ground floor, which is proposed to be a commercial space.
The building would follow a coliving concept, which planners for the site described as "a type of purpose-built and managed residential accommodation, providing a combination of personal and shared amenity space."
The plans, which were submitted on behalf of Consensus Capital Partners, also said:  "The aim is to provide affordable and community-oriented city-centre living to Glasgow. The site has been derelict for a number of years, and it is proposed that the site will be redeveloped into a modern development of 87 coliving residential apartments and a ground floor commercial unit."
The plans also included details of preserving and incorporating the historic sandstone bust of Beethoven that was previously housed on Renfrew Street into the new development.
The plans said: "A sandstone bust of the composer Beethoven which originally adorned the Renfrew Street façade has been removed and currently stored on site. The proposals seek to re-instate this characterful feature and in doing so, secure its long-term safety. The bust will be stored securely off site while construction works take place."
The new proposal also seeks to support Glasgow City Council's current attempts to create more housing in the area.
The plans said: "The proposal will support the Sauchiehall Street's Avenues Project, which is encouraging the creation of more homes in the area as part of Glasgow City Council's regeneration and redevelopment of the city centre. A newly built, mixed-use tower of studios and one-bedroom apartments will be located on the site to help meet a growing demand for city centre homes."