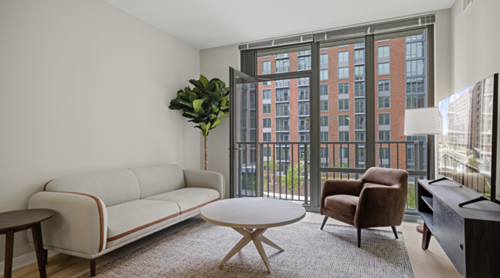 The WhyHotel by Placemakr has 120 apartments, which feature fully equipped kitchens, living rooms and bedrooms with walk-in closets.
Jason Fudin, CEO and co-founder of Placemakr said: "The future of hospitality and home is flexible. Our unique model bridges the hotel and apartment world, creating an offering more valuable than either product alone. Our guests at WhyHotel by Placemakr, Alexandria will get to stay in fully furnished apartments while having access to the best services found in hospitality. We're linking these two industries to provide a greater experience for our guests and residents."
The pop-up aparthotel will be based at a luxury apartment building, Dylan, and is in partnership with Stonebridge, a real estate development and investment firm, which focuses on creating mixed-use projects in the Greater Washington area. 
Marvin Poole, director at Stonebridge said: "At Stonebridge, we focus on creating transformative mixed-use developments in the Washington area and we see Placemakr as the perfect partner in expanding our offerings. Placemakr will add to our vision for a dynamic living environment embedded into a neighbourhood rich with shopping and working opportunities to create the ideal destination for travellers coming for business or leisure."
The property has two roof decks, a three-acre terrace, a rooftop pool, two gyms, co-working space, a demonstration kitchen and a stage for TED-style talks.  
Guests will be able to book stays at the WhyHotel by Placemakr from May 27th. Placemakr plans to open other properties later this year.
Watch a video of SAN talking to president and cofounder of WhyHotel about pop-up hotels in the American extended stay sector.