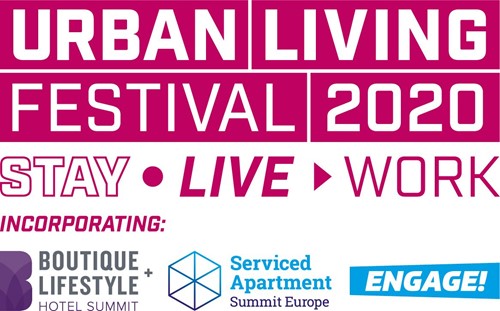 International Hospitality Media (IHM), the leading online publisher and event organiser for the hospitality and real estate sectors, is delighted to confirm that its latest launch – Urban Living Festival: stay • live • work – will go ahead as scheduled on November 25 and 26 at Tobacco Dock in London.
Urban Living Festival (ULF) is a new type of event, themed across three stages – live, work and stay, where the global community of contemporary hospitality and real estate leaders will gather to collectively define the evolution of living and working in modern cities. 
Changing demographics, social and economic drivers are fuelling investor decisions across broader Urban Living asset classes. ULF places the spotlight directly on investment, development, supply, operations, brands, distribution and demand generators in the age of convergence.
Curated with an intense focus on collaboration and debate, the festival brings CEOs, speakers and attendees, sponsors and solution providers to collectively share best practice, network, map the industry's future and do business.
Piers Brown, CEO of International Hospitality Media, says: "Now, more than ever, it's vital for the key players in hospitality and real estate to gather in order to forge new relationships, develop new concepts, and collaborate for the mutual benefit and strength of the industry. We were delighted to hear the prime minister's announcement regarding an October 1st restart for the events sector, and can't wait to welcome investors, developers, operators and suppliers to ULF as we all take our first steps in to a new business landscape with its fresh challenges and opportunities."
ULF will shine a spotlight on:
Hotels and serviced apartments
• Aparthotels / extended stay hotels
• Hostels and co-living 
• Build-to-rent (BTR) and student accommodation 
• Short-term rentals 
• Senior living 
• Co-working
• Healthy Buildings, sustainability and wellness
• PropTech
IHM has also confirmed that its Urban Living Festival MEA event will now take place in September 2021, in Dubai. Based on the same principles as the London event, ULF MEA will focus on the evolution of the fast-moving GCC markets.
The news comes as a recent survey found that 80 per cent of people are keen to return to live events within the next 12 months. The survey, by events agency identity, aimed to gauge the mood and expectations around live and virtual events. It found that advance communication with attendees is essential to inform and reassure them of the Covid-safe measures events are putting in place. In the run up to ULF, IHM is working closely and consulting regularly with its partners at Tobacco Dock to ensure all necessary steps are taken to protect the safety of attendees.
To remain engaged with its audience during the lockdown period, IHM has also been running a series of Urban Living webinars. Covering subjects including investment, technology, mixed-use development, coliving, coworking, ESG and more. More than 3,000 industry leaders have registered for the sessions to date.

And the company has also announced two key promotions in its editorial department. Paul Stevens has been promoted from news editor to editor of the Short Term Rentalz website. Stevens joined the company as an intern before being promoted to reporter, news editor and, now, editor of the leading b2b website for the short-term rental sector. He was also instrumental in the launch and delivery of the inaugural Shortyz awards, and is currently preparing a STRz webinar series for the autumn.
Eloise Hanson has been promoted from reporter to news editor at Boutique Hotel News. Hanson also joined as an intern, before securing a role as a reporter. She is preparing to launch a BHN webinar series in September.
George Sell, editor-in-chief at International Hospitality Media, said: "I am delighted to announce these richly deserved promotions. Both Paul and Eloise have really shown their mettle during the pandemic, in terms of output, attitude and new ideas. They both have enormous potential as journalists and I look forward to working with them as their careers continue to flourish."