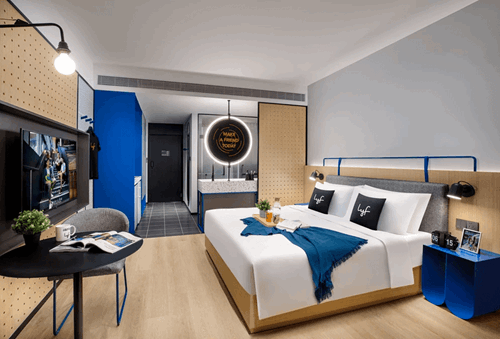 The expanded portfolio includes the newly opened lyf Mid-Town Hangzhou, Ascott's first lyf-branded coliving property in China. It also secured a management contract for its second lyf property in Thailand, lyf Riverside Bangkok. This follows Ascott's recent acquisition of its first lyf property in Europe, livelyfhere Gambetta Paris, through its private fund Ascott Serviced Residence Global Fund (ASRGF) in June 2021.
lyf or "live your freedom", is described by Ascott as a lodging concept designed for the next-generation travellers.
The apartments, social spaces and experiential programmes at lyf properties are designed for guests to forge connections and to nurture a strong sense of community. To date, Ascott has opened four lyf properties in Singapore, Bangkok, Fukuoka and Hangzhou. Three more are scheduled to open later this year in Singapore, Xi'an and Shanghai – lyf one-north Singapore, as well as lyf Dayanta Xi'an and lyf Hongqiao Shanghai in China. Between 2022 and 2025, 10 more lyf properties are slated to open in Bangkok, Beijing, Cebu, Danang, Kuala Lumpur, Manila, Melbourne, Paris, Shanghai and Singapore.
Mr Kevin Goh, CapitaLand's CEO for lodging, said: "Ascott constantly innovates to position us for the future, designing products that not only provide unique experiences to customers, but also create greater value for our business partners and investors. Our award-winning brands including lyf demonstrate our capabilities and commitment to deliver quality real estate assets that our sponsored hospitality trust, Ascott Residence Trust (ART); and our private fund, ASRGF, can invest in. We are on track to open lyf one-north Singapore later this year which will add another quality asset to ART's portfolio. ASRGF also recently acquired its first lyf property in Europe which is its second lyf property after lyf Funan Singapore. We see the potential for more coliving investments by our existing trust and fund, or even a dedicated coliving lodging fund with like-minded capital partners to accelerate our growth. This will enable us to leverage a capital-efficient business model to expand our capital partner base while achieving fee-related earnings (FRE) and funds under management (FUM) growth."
Tan Bee Leng, Ascott's managing director for brand and marketing, said: "lyf is a hybrid lodging solution that combines the best of serviced residences, hotels and coliving apartments. The concept continues to resonate well with our guests and partners across the world with new signings and property openings on track despite COVID-19. It demonstrates that our partners recognise the resilience of Ascott's lodging products and the value we bring as one of the leading international lodging owner-operators. With the opening of our first lyf property in China, Ascott has opened a total of more than 5,000 units in over 20 properties globally this year. This is more than double the number of units opened for the same period last year."