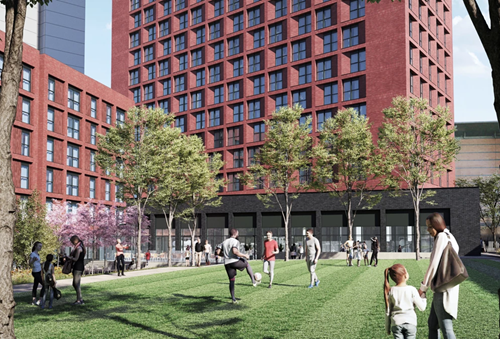 The project, which will be known as Cortland Broad St, was brought to market by Knight Frank and will comprise a 35-storey tower and a low-rise six-storey apartment block. It will offer 440 one- and two-bedroom apartments with more than 12,000 square feet of amenity space, including a gym, cinema room, co-working space, resident lounges, private dining area, bouldering wall and roof terrace. The development is being undertaken by Cortland, and senior debt funding for the scheme is being provided by AllianceBernstein.
Cortland Broad St, which is expected to be delivered in early 2024, is located in an established residential neighbourhood, close to major employers and business centres at Brindley Place, dining and entertainment options, and several public transportation options.
"Birmingham is home to the greatest concentration of businesses outside of London and is experiencing significant investment in new public transportation options making it easier to live and work in the city," said Paul Bashir, CEO of Harrison Street's European business. "Despite the city's major companies and start-ups, deep talent pool, and leading universities, Birmingham does not have the high-quality rental accommodation that the growing population of young professionals demand. We are pleased to expand our partnership with Cortland to deliver an exemplary residence with high-end amenities that demonstrates the attractive pipeline of first-class BTR projects we seek to identify and invest in with the JV."
Owain Thomas, senior director – Europe at Cortland, said: "We are delighted to have completed the transaction at Broad Street in Birmingham, which is the culmination of hard work from our partners,. Since entering the UK market in 2017, our goal was to redefine and reimagine the rental living experience in the UK. We've aimed to do this by importing our proven US resident-centric rental model to the UK for both build to rent and other private rented sectors. With Cortland Broad St, Cortland will revise market expectations as we bring to market our unparalleled residential management offering."
Harrison Street and Cortland formed a joint venture in 2020 with a pipeline of BTR projects across the UK representing a GDV in excess of £750 million. Cortland Broad St represents the second development for the JV following its investment in a 367-unit BTR property in Watford called Cortland Cassiobury.
Harrison Street has invested more than €3.6 billion in approximately 18,000 student accommodation beds, 2,600 specialty residential units and 2.1 million square feet of life sciences space throughout Europe.