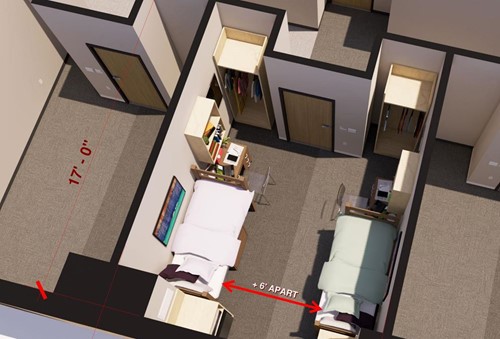 Many student halls are designed specifically to house freshmen, with studies showing that first year students who live in double bedrooms with a room mate have a higher rate of retention.
However, with social interactions being restricted under pandemic conditions, future bedroom designs are likely to reflect this.
"Safety and security will be paramount for future students and their families, likely resulting in a desire for single-occupancy bedrooms in residence halls," said KWK Architects principal Sara Koester. "Single bedroom units can provide a safe haven – a personal retreat where students can relax away from others."
A "next best" room design includes a "paired-single" unit - two single beds side-by-side - which each occupant having individual desks, wardrobes, and an operable window.
"The two sides can be marked with floor patterns and paint finishes to distinguish the two zones within the room," said Koester. "The two roommates will function as a 'family unit' since they are indeed sharing a room. These resident students will have experienced the pandemic in their formative years and can rely on their prior experiences to understand the importance of appropriate space boundaries." 
Bathroom designs may favour a clustered arrangement with private-use bathrooms (containing a toilet, sink and shower) are located together. Two entrance and exit points will allow for one-way traffic to be implemented should health conditions warrant.
Social spaces such as lounges and kitchens will be sized and organised to allow for distinct stations or areas. Koester explained: "It has always been important to provide a variety of social spaces that allow for a range of activities – quiet to active and small group to large group – but now residence halls should consider including single-person study spaces where a resident may go to focus on studies or simply decompress in a private, safe zone." 
Entrances to buildings and lobbies should be large enough for pedestrian flow, with corridors allowing for ample width. KWK suggests small alcoves be carved at regular intervals off the main hallway to allow for the safe manoeuvre of traffic.
Turning to the outdoors, Koester added: "Individual outdoor activities, like hammocking and swings, can offer places to unwind, while outdoor terraces and patios can offer places for small groups to safely meet while social distancing."
KWK Architects was founded in 2013 by five architects with a combined 120 years of higher education knowledge and experience. The firm works with colleges and universities across the US.
KWK has completed more than $1 billion in construction-valued projects.