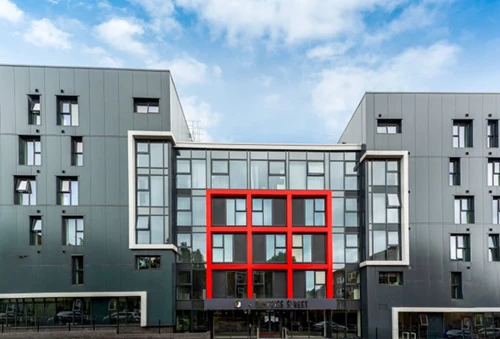 Administrators from David Rubin & Partners have been appointed to London Luton New Street Student Accommodation Ltd and London Luton Chapel Street Student Accommodation Ltd. Both companies are controlled by Steve Worboys and Jerald Solis, founders of residential investor and developer Opto Living.
The two schemes total more than 600 rooms, and according to a report in Bisnow they are the first significant schemes to go into administration or receivership since the beginning of the pandemic.
The two schemes, Opto Village and Chapel Street, were completed in 2017 and 2016 respectively. The local council had received complaints that the schemes had been used as hotels as well as student accommodation, a use outside of the planning consent granted to them, local news outlet Luton Today reported.
Opto applied in July for a retrospective planning consent for use of the schemes as hotels and student accommodation, but it subsequently amended this application, seeking consent instead for permission to mix coliving and student use. Permission for this was granted in October.
The company has also developed PBSA schemes in Cardiff and Newcastle as well as BTR and hotel schemes in Luton.
During the pandemic PBSA operators have had to return rent to students who could not take up their places in the 2020 and 2021 academic years.
This hasn't stopped institutions such as Barings and Ascott Residence Trust making their first moves in to the sector in recent weeks.