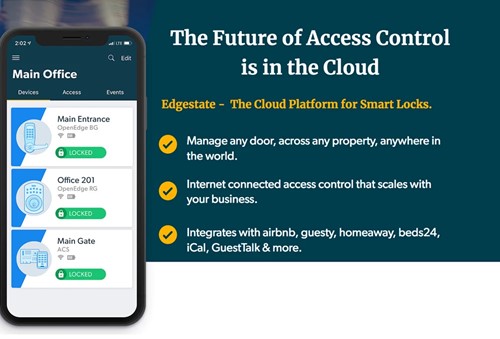 Smartlock offers remote access hardware and software for short-tern rentals, serviced apartments, student accommodation, self-check-in hotel and commercial properties such as coworking space, fitness studios and offices.
Its integration partners includes Airbnb, HomeAway and Guests, as well as serviced apartment companies such as Urban Stay.
Smartlock CEO Stuart Duncan said: "The trend is now for self check-in via keyless, Wi-Fi connected smart locks. Hosts save time, money and hassle by eliminating or reducing the dependency on a front reception desk, key safes or staff. Guests love the freedom of being able to arrive at any time and not have to interact with staff. Enabling guests to social distance and stay safe will give you an edge over your competitors. Keyless access offers greater convenience, improves security and will save you money. Cloud based access control will transform your business and now is the time to deploy a smart lock solution. Remotelock offers a wide range of internet connected door locks that use PIN codes, Prox cards, algorithm and smartphone credentials. Our Edgestate software enables owners to manage all their properties, staff and guests from one online dashboard. Furthermore access control can be automated, as we integrate with airbnb, homeaway, beds24, iCal, GuestTalk and dozens more PMS/channel managers."