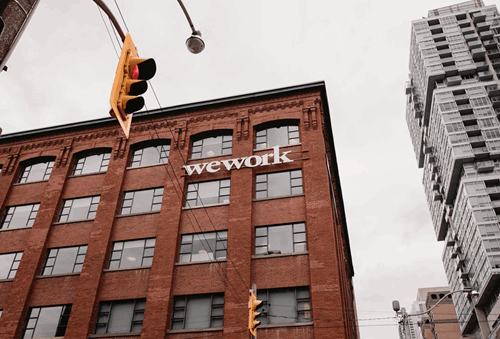 The deal values WeWork at $9 billion (£6.5 billion), around a fifth of its estimated worth in 2019, before its earlier flotation effort hit the buffers.
BowX is a special purpose acquisition company, a shell firm that uses proceeds from a public listing to buy a private firm.
The firm, led by Vivek Ranadive, the owner of NBA team Sacramento Kings, raised $420 million when it started trading shares last August. Its shares rose more than seven per cent following the announcement.
As part of the £1 billion deal, WeWork will receive an $800 million (£581 million) private placement investment with investors including Insight Partners, funds managed by Starwood Capital Group, Fidelity Management & Research Company, Centaurus Capital, and funds and accounts managed by BlackRock.
WeWork currently has around 850 locations in 152 cities globally. It reported $3.2 billion in revenue last year - the same as in 2019.
"Today, WeWork is a more focused company built around a core flexible space business that is poised for substantial growth," the company said in its announcement of the deal, which is expected to be completed by the third quarter of 2021.
Marcelo Claure and Sandeep Mathrani will continue to lead WeWork as executive chairman and chief executive respectively. Ranadive of BowX and Deven Parekh of Insight Partners will join the company's board of directors.
Mathrani said: "WeWork has spent the past year transforming the business and refocusing its core, while simultaneously managing and innovating through a historic downturn. As a result, WeWork has emerged as the global leader in flexible space with a value proposition that is stronger than ever. Having Vivek and the BowX team will be invaluable to WeWork as we continue to define the future of work."
Ranadive said: "I'm thrilled to partner with Sandeep, Marcelo and the entire WeWork team as they continue to transform this business and the real estate industry at large. This company is primed to achieve profitability in the short-term, but the added long-term opportunity for growth and innovation is what made WeWork a perfect fit for BowX. With a fantastic core business, I see WeWork as a company at an inflection point, with an incredible roster of key members coupled with the vision and leadership to digitise an enormous industry."
Barry Sternlicht, chairman and chief executive of Starwood Capital Group, said: "The commercial real estate industry has experienced a seismic shift and the future of work is now being redefined in real time. WeWork is the leader in flexible space, with a globally recognised brand."